come on live debate at channel mr Ajnala, dont make excuses | Bhai Ranjit Singh Dhadrianwale
Ajnwlw jI cYnl qy AwE bhwny nw bxwE
Clip Video by Bhai Ranjit Singh Ji Khalsa DhadrianWale.

Amrik Singh Ajlana has recently made excuse of not coming for live debate on channel. He was the person who initially asked Dhadrianwale that he is ready to come on any place, any time for discussion. Dhadrianwale accepted his proposal and challenges Ajnala to come on live channel debate. It was then ajnala made excuses. Bhai Ranjit Singh, in this video, asking Amrik Singh Ajnala to stop making such excuses and come for live discussion.
Uploaded by on
13.03.2020




Donate for ParmesharDwar
Send your donations for Sewa and Projects being done by ParmesharDwar Gurmat Parchar Charitable Mission. Use the number below to send using PayTM or Google Pay.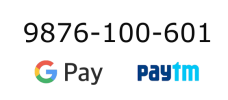 Radio Dhadrianwale 24x7
Listen latest kirtan 24x7 by Bhai Ranjit Singh Ji Khalsa Dhadrianwale
Use second player for Chrome
Dhadrian wale Mobile Apps
Sangats' Feedback
"Thanks for yout logical and thruthful gurmat teachings"
Dear Bhai Ranjit Singh Khalsa Ji, I want to thank you for your logical, practical and truthful gurmat teaching which is 100% right. Personally I am 100% behind the stand that you are taking. The corrupt Sikh establishment system that pushes false teachings/literature and seeks only to make money and makes zero positive contribution to the lives of ordinary Sikhs is totally worthless and irrelevant. The actions of these corrupt people are unforgivable. The Guru Sahibs gave us a priceless Sikhi and demonstrated how to live by it in reality. It is up to every individual honest Sikh to personally reject these corrupt people and also make a stand in this age of democracy/freedom of thinking. Thank you once more.
_ Kuldip Singh, Bedford - United Kingdom
Got something to share? Write us now!
Dhadrianwale News
Dhadrianwale Kirtan Schedule