Jio Jio Naama Har gun | DhadrianWale
ਜਿਉ ਜਿਉ ਨਾਮਾ ਹਰਿ ਗੁਣ ਉਚਰੈ
Shabad Video by Bhai Ranjit Singh Ji Khalsa DhadrianWale.

Jio Jio Naama Har gun 
Uploaded by on
18.07.2020



Gurbani Shabad
hsq Kylq qyry dyhury AwieAw ]
Bgiq krq nwmw pkir auTwieAw ]1]
hInVI jwiq myrI jwidm rwieAw ]
CIpy ky jnim kwhy kau AwieAw ]1] rhwau ]
lY kmlI cilE pltwie ]
dyhurY pwCY bYTw jwie ]2]
ijau ijau nwmw hir gux aucrY ]
Bgq jnW kau dyhurw iPrY ]3]6]
Gurbani Shabad Translation
Laughing and playing, I came to Your Temple, O Lord.
While Naam Dayv was worshipping, he was grabbed and driven out. ||1||
I am of a low social class, O Lord;
why was I born into a family of fabric dyers? ||1||Pause||
I picked up my blanket and went back,
to sit behind the temple. ||2||
As Naam Dayv uttered the Glorious Praises of the Lord,
the temple turned around to face the Lord's humble devotee. ||3||6||

Donate for ParmesharDwar
Send your donations for Sewa and Projects being done by ParmesharDwar Gurmat Parchar Charitable Mission. Use the number below to send using PayTM or Google Pay.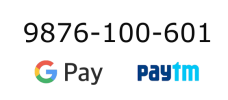 Radio Dhadrianwale 24x7
Listen latest kirtan 24x7 by Bhai Ranjit Singh Ji Khalsa Dhadrianwale
Use second player for Chrome
Dhadrian wale Mobile Apps
Sangats' Feedback
"Guru Granth Sahib di sikhya jiwan da base hai"
Mai indian army ch as para comando job krda. mai paawe proper gursikh nai par guru sahib de sidhant te chlan di koshish krda bhai saab da diwan aksar sunda rehna m mehsoos krda ki guru grath sahib ch jo guru sahiban ne dseya o ek base aa. Jive sanu training ch sikhaya janda ki apa operation jaa rhe aa fire aya ta apa kis tarah kise v cheej di aad laike bachna, par o ek basic gal h har jagah alag operation hunda te alag situation andiyan. ose tarah guru sahib ne v sanu basic jindgi di buniyad dsi aa ohnu follow krke apa ajj di technologies nu use krna te jindgi ch superior community bananna. o base h usnu use krke age vadna naa ki dusre kathaa vachak diya sunke bass sharda rakhni ki hoju hoju. bass m ena kehna c. I am only 27year old but koshish krda tark kr k jidgi jiye. Thank you Bhai Sahib Ji
_ Gurjant singh, Himachal Pradesh - India
Got something to share? Write us now!
Dhadrianwale News
Dhadrianwale Kirtan Schedule