Raakh Leho Hum Te Begari | Dhadrian Wale
rwiK lyhu hm qy ibgrI
Shabad Video by Bhai Ranjit Singh Ji Khalsa DhadrianWale.

Gurbani Shabad Kirtan by Bhai Ranjit Singh Ji Khalsa Dhadrianwale and his kirtani jatha at Gurdwara Shri Parmeshar Dwar Sahib - Patiala
Uploaded by on
05.02.2021



Gurbani Shabad
iblwvlu ]
rwiK lyhu hm qy ibgrI ]
sIlu Drmu jpu Bgiq n kInI hau AiBmwn tyF pgrI ]1] rhwau ]
Amr jwin sMcI ieh kwieAw ieh imiQAw kwcI ggrI ]
ijnih invwij swij hm kIey iqsih ibswir Avr lgrI ]1]
sMiDk qoih swD nhI khIAau srin pry qumrI pgrI ]
kih kbIr ieh ibnqI sunIAhu mq Gwlhu jm kI KbrI ]2]6]
Gurbani Shabad Translation
Bilaaval:
Save me! I have disobeyed You.
I have not practiced humility, righteousness or devotional worship; I am proud and egotistical, and I have taken a crooked path. ||1||Pause||
Believing this body to be immortal, I pampered it, but it is a fragile and perishable vessel.
Forgetting the Lord who formed, fashioned and embellished me, I have become attached to another. ||1||
I am Your thief; I cannot be called holy. I have fallen at Your feet, seeking Your Sanctuary.
Says Kabeer, please listen to this prayer of mine, O Lord; please do not send me sommons of the Messenger of Death. ||2||6||

Donate for ParmesharDwar
Send your donations for Sewa and Projects being done by ParmesharDwar Gurmat Parchar Charitable Mission. Use the number below to send using PayTM or Google Pay.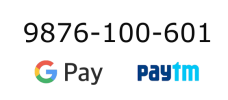 Radio Dhadrianwale 24x7
Listen latest kirtan 24x7 by Bhai Ranjit Singh Ji Khalsa Dhadrianwale
Use second player for Chrome
Dhadrian wale Mobile Apps
Sangats' Feedback
"You have helped to open my eyes"
Thank you Bhai Ranjit Singh Dhadriwale. I have been raised in USA. I was so confused with the Sikh teachings because I didn't understand them. I started listening to you when you came to Yuba City in 2016. The way you teach and preach has helped me so much to learn about the Gurus and Sikhi. Thank you brother for your wisdom and teaching. You have helped to open my eyes. Thank you brother and continue the good work you are doing. We support you!
_ Amandeep Kandola, Californa - USA
Got something to share? Write us now!
Dhadrianwale News
Dhadrianwale Kirtan Schedule